Stock Exchange: Do You Start The Day With A Trading Plan?
The Stock Exchange is all about trading. Each week we do the following:
Discuss an important issue for traders;
highlight several technical trading methods, including current ideas;
feature advice from top traders and writers; and,
provide a few (minority) reactions from fundamental analysts.
We also have some fun. We welcome comments, links, and ideas to help us improve this resource for traders. If you have some ideas, please join in!
Review: What Are Your Odds of Trading Success?
Our previous Stock Exchange asked the question: What Are Your Odds of Trading Success? We acknowledged that trading is challenging, and many people shouldn't even try it. The success rate is very low. However, if you're willing to put in the time, you can be successful.
This Week: Do You Start The Day With A Trading Plan?
According to infamous boxer, Mike Tyson:
"Everyone has a plan until they get punched in the face."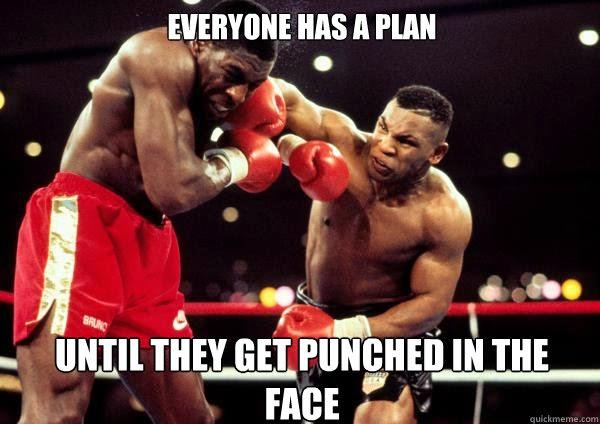 And while Muhammad Ali is still the greatest, Mike Tyson has a good point. We can start every trading day with a specific plan in mind, but the market can throw some wild punches that create the need to adjust.
For example, the highly-respected and always fascinating trader and author, Dr. Brett Steenbarger wrote earlier this week about the importance of adjusting your trading plan based on market conditions:
"Today, the two trades I had that didn't work out came close to my targets, but failed… According to my stats, the SPY volume in the afternoon was running at about half the expectable level for that time of day. On normal days, we might get 60,000 contracts traded in 25 minutes' time. Today it took more than an hour. Everything slowed down. Except for my expectations."

"Market participation changes daily, and the balance of buyers and sellers changes daily. Our job is to recognize and adjust."
As another example of how to adjust your trading plan throughout the course of the trading day, an excellent article from the SMB Training Blog explains how to adjust your playbook throughout the course of the day to improve your success, in the same way the NBA's Golden State Warriors adjust at half time to improve their success.
We also have learned to adjust our own trading plays depending on market conditions. For example, our stop orders are adjusted depending on market volatility to reduce the chances of getting stopped out at inopportune times (see: Were You Stopped Out?).
Model Performance:
Per reader feedback, we're continuing to share the performance of our trading models, as shown in the following table:

We find that blending a trend-following / momentum model (Athena) with a mean reversion / dip-buying model (Holmes) provides two strategies, effective in their own right, that are not correlated with each other or with the overall market. By combining the two, we can get more diversity, lower risk, and a smoother string of returns.
And for these reasons, I am changing the "Trade with Jeff" offer at Seeking Alpha to include a 50-50 split between Holmes and Athena. Current participants have already agreed to this. Since our costs on Athena are lower, we have also lowered the fees for the combination.
If you have been thinking about giving it a try, click through at the bottom of this post for more information. Also, readers are invited to write to main at newarc dot com for our free, brief description of how we created the Stock Exchange models.
Expert Picks From The Models:
This week's Stock Exchange is being edited by Blue Harbinger; (Blue Harbinger is a source for independent investment ideas).
Road Runner: I purchased Wynn Resorts (WYNN) this week on Wednesday. What do you think about that, Blue Harbinger?
Blue Harbinger: That is interesting, Road Runner, but it'd be helpful if you told me why you purchased it.
Road Runner: For the same general reason I enter all of my trades. WYNN was in the lower end of a rising channel. You can see what I am talking about in the following chart.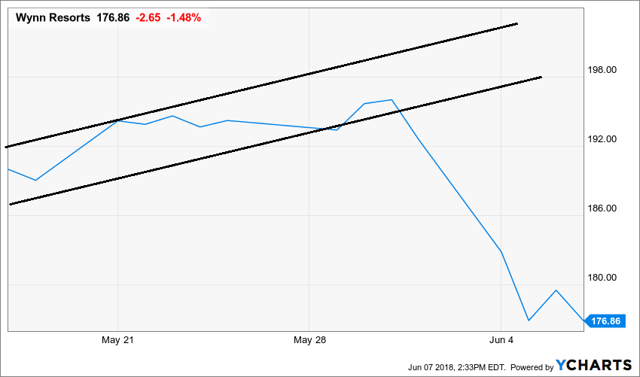 BH: Hold on, Road Runner, that's not in the lower end of the channel, that one basically fell through the floor. However, I can see what you're talking about better in this next chart.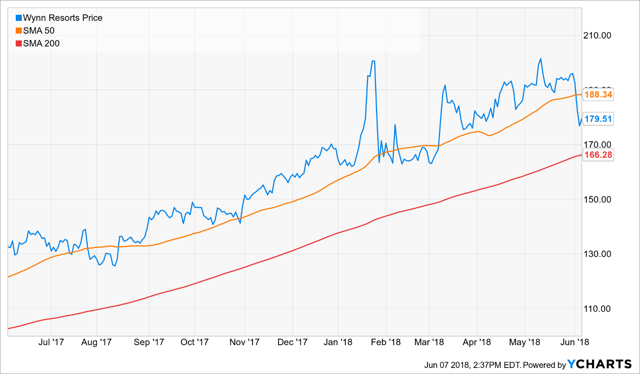 Road Runner: It's more complicated than you think, Blue Harbinger. There are more technicals involved.
BH: How about fundamentals, Road Runner? You do realize Macau announced slightly lower revenue than expected for May, and the shares sold off. For your reference, I've included the Fast Graph below, but do you think the revenue number could have something to do with the price decline in your chart?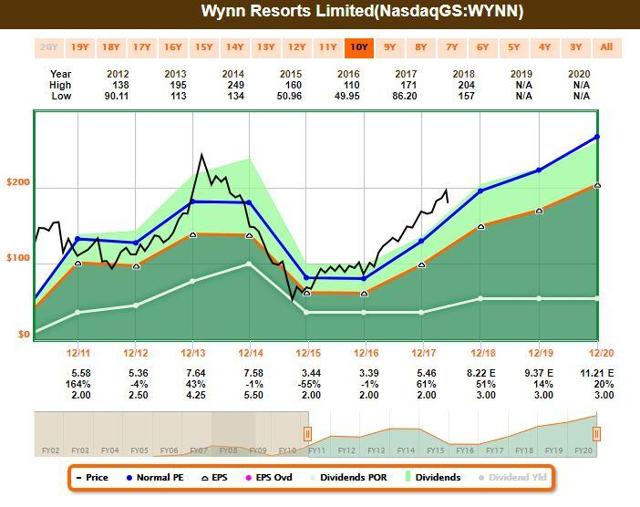 Road Runner: I am aware that revenues were lower than expected, but they're still rising rapidly, and have been for 22 straight months now. More importantly, I am a technical trader, and I typically only hold my positions for 4-weeks, so your longer-term fundamental forecasts are far less relevant to me.
BH: Suit yourself. Regardless, I can see why plenty of traders would think this is an attractive opportunity. I'll check back in with you on this one in 4-weeks. How about you, Athena—any trades this week?
Athena: I bought ABIOMED (ABMD) on Monday. As you know, I am a momentum trader, and ABMD looks attractive over the next 17-weeks, which is my typical holding period.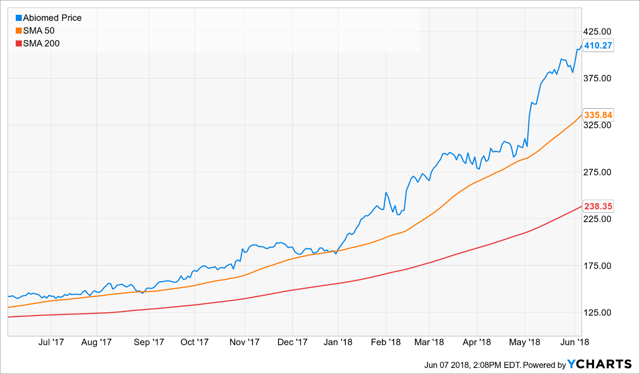 BH: I can see ABMD is sailing above its 50-day and 200-day moving averages fairly consistently over the last year, and those are attractive technicals for a momentum trader like yourself to consider, but have you considered the fundamentals? ABMD researches, develops, and sells medical devices to assist or replace the pumping function of a failing heart. Revenues have been increasing dramatically, and EPS is getting more attractive too. Here is a look at the Fast Graph.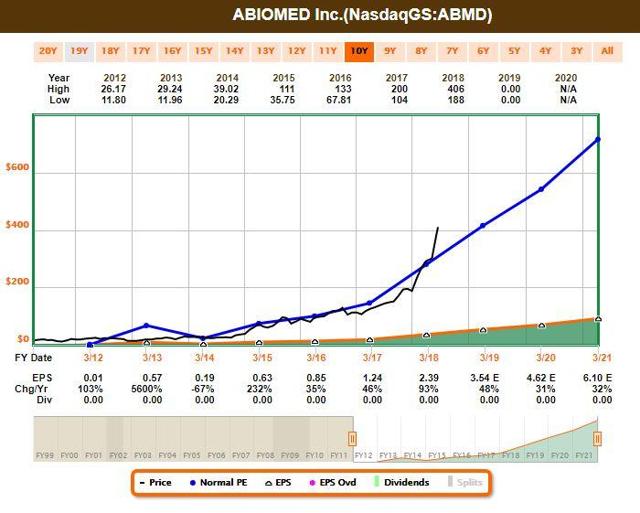 Athena: Thanks for that information, but I am a trading model focused on technicals. I'll exit my position when either my price target or stop price hits.
BH: I realize past performance is certainly no guarantee of future success, but based on our earlier performance data, you've been doing great over the last year, Athena. Nice job.
Athena: Thanks BH, but all of our models have been doing great, especially when combined because they offset risks and keep returns high. And speaking of high returns, Felix has also been doing great over the last year, as shown in our earlier performance table. Do you have any trades to share with us this week, Felix?
Felix: No trades, but I did run the 30 Dow Jones stocks through my model, and here is a ranking of the top 20:

BH: Thanks for sharing, Felix. I like these rankings. Remind us—what is your strategy?
Felix: I am a momentum trader, but I hold my positions for much longer than the other traders—typically 66-weeks.
BH: That is longer. I can see your number three stock, Microsoft (MSFT) continuing to do well. They're the clear number two in cloud now, behind only Amazon Web Services. Your number four stock makes me a little nervous though—I like Caterpillar (CAT) a lot, but they've had a great run. You know I bought shares of CAT back in January 2016 for around $63 and then sold last fall at a nice profit. However, I've been wrong plenty of times in the past too, and based on your great track record I wouldn't bet against you. Maybe it's time I adjust my outlook based on current market conditions.
Felix: Make up your mind already, Blue Harbinger. I am so glad I am a computer model and not a person, therefore I don't second guess myself. Anyway, how about you, Oscar—any trades to share this week?
Oscar: No trades to share, but I did run our list of "High Liquidity ETFs with Price volume over 100 million per day" through my program. Here are the top 20 rankings.

BH: Wow—you're not messing around with TNA ranked at #1. That's the Direxion Daily Small Cap Bull 3x Shares ETF (TNA). It seeks daily investment results of 300% of the price performance of the Russell 2000 Small Cap Index. And yes, I am aware that you typically hold for 6-weeks, Oscar. Also, I'm not surprised to see two energy related names in second and third. Good stuff, Oscar—thanks!
Conclusion:
Having a disciplined, repeatable, trading game plan is important and attractive. However, being able to adjust your plan depending on changing market conditions can mean the difference between success and failure. Discipline is good, but stubbornly sticking to a failing game plan is not smart, especially when small but timely adjustments can make all the difference.
Background On The Stock Exchange:
Each week, Felix and Oscar host a poker game for some of their friends. Since they are all traders, they love to discuss their best current ideas before the game starts. They like to call this their "Stock Exchange." (Check out Background on the Stock Exchange for more background). Their methods are excellent, as you know if you have been following the series. Since the time frames and risk profiles differ, so do the stock ideas. You get to be a fly on the wall from my report. I am usually the only human present and the only one using any fundamental analysis.
The result? Several expert ideas each week from traders, and a brief comment on the fundamentals from the human investor. The models are named to make it easy to remember their trading personalities.
Stock Exchange Character Guide:
| | | | | | |
| --- | --- | --- | --- | --- | --- |
| Character | Universe | Style | Average Holding Period | Exit Method | Risk Control |
| Felix | NewArc Stocks | Momentum | 66 weeks | Price target | Macro and stops |
| Oscar | "Empirical" Sectors | Momentum | Six weeks | Rotation | Stops |
| Athena | NewArc Stocks | Momentum | 17 weeks | Price target | Stops |
| Holmes | NewArc Stocks | Dip-buying Mean reversion | Six weeks | Price target | Macro and stops |
| RoadRunner | NewArc Stocks | Stocks at bottom of rising range | Four weeks | Time | Time |
| Jeff | Everything | Value | Long term | Risk signals | Recession risk, financial stress, Macro |
Getting Updates:
Readers are welcome to suggest individual stocks and/or ETFs to be added to our model lists. We keep a running list of all securities our readers recommend, and we share the results within this weekly "Stock Exchange" series when feasible. Send your ideas to "etf at newarc dot com." Also, we will share additional information about the models, including test data, with those interested in investing. Suggestions and comments about this weekly "Stock Exchange" report are welcome.
Trade Alongside Jeff Miller: Learn More.