Stock Exchange: Are You Still On The Sidelines?
The Stock Exchange is all about trading. Each week we do the following:
Discuss an important issue for traders;
highlight several technical trading methods, including current ideas;
feature advice from top traders and writers; and,
provide a few (minority) reactions from fundamental analysts.
We also have some fun. We welcome comments, links, and ideas to help us improve this resource for traders. If you have some ideas, please join in!
Review:
Our previous Stock Exchange asked the question "will market sentiment turn bearish soon?" We reviewed the continuing market rally, and warned against complacency in trading. If you missed it, a glance at your news feed will show that the key points remain relevant.
This Week: Are You Still On The Sidelines?
The stock market has been "off to the races" to start 2018, and that is creating an uncomfortably eerie feeling for many traders. Perhaps still emotionally scarred from the terrible start to 2016, some traders are missing out on the gains, choosing to instead sit on the sidelines.
According to famous hedge fund manager, Victor Niederhoffer:
"The stock market has had one of the biggest rises in the first two weeks in history and based on past years, it is due for a pull back."
Niederhoffer shares a total of ten interesting observations in this recent article: Nobody Asked Me, But…
However, according world renowned independent trader and mentor, Charles Kirk:
"it still remains a bull market until proven otherwise. While we recognize the market is long overdue to see corrective price action, we are not seeing evidence of it in the price action other than very high levels of strength that can bring it on."
Mr. Kirk's private membership for investors and traders is an excellent way to learn if you can get into his class. Interestingly, Kirk goes on to say:
"This quant study most quoted in social media last week was this – when the first five days of a new year are up +2% or more the full year the follows has been higher 15 out of 15 times with an average +18.6% yearly return * Meanwhile, frothy market conditions remained the top focus by the quants again this week as study after study after study after study suggest potential for short-term consolidation but higher highs beyond it."
Perhaps it is this short-term consolidation that many traders are waiting for as an opportunity to get off the sidelines.
Taking a different view on the right time to get off the sidelines is this article from The Trade Risk, which suggests "end of day trading is superior."
Further still, this article from Adam H. Grimes suggests there are no shortcuts to becoming a world class trader. Grimes says experts know how to:
"cut through the garbage and to reduce any discipline to its most essential points."
His article goes on to say:
"If you truly want to excel at something… You will spend hours, days, weeks, and years refining small elements of your approach. Some of this just takes time, and there are no shortcuts."
Model Performance:
Per reader feedback, we're continuing to share the performance of our trading models, as shown in the following table.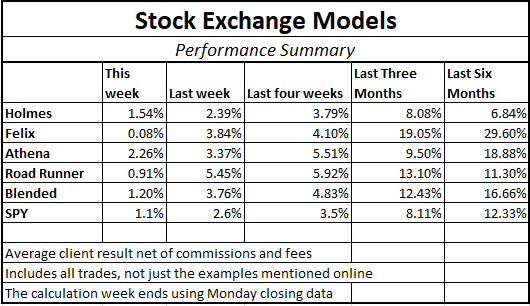 Importantly, we find that blending a trend-following / momentum model (Athena) with a mean reversion / dip-buying model (Holmes) provides two strategies, effective in their own right, that are not correlated with each other or with the overall market. By combining the two, we can get more diversity, lower risk, and a smoother string of returns.
And for these reasons, I am changing the "Trade with Jeff" offer at Seeking Alpha to include a 50-50 split between Holmes and Athena. Current participants have already agreed to this. Since our costs on Athena are lower, we have also lowered the fees for the combination.
If you have been thinking about giving it a try, click through at the bottom of this post for more information. Also, readers are invited to write to main at newarc dot com for our free, brief description of how we created the Stock Exchange models.
Expert Picks From The Models:
This week's Stock Exchange is being edited by Blue Harbinger (Blue Harbinger is a source for independent investment ideas).
Holmes: This week, I bought Melco Resorts & Entertainment (MLCO). This stock's recent dip is the sort of setup I like to see. From the chart below, you can see the dip, and you can see it has attractive upside over the next six weeks.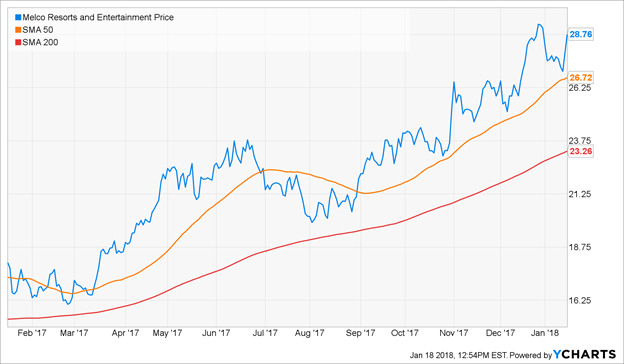 Blue Harbinger: Interesting pick, Holmes. I do see the dip, and I know you bought earlier this week (as you always do), so you're off to a good start on this trade. Can you give us a little more color on why you like it?
Holmes: As you know, my style is based on dip buying and mean reversion. However, you may not be aware that I'm really into protecting assets, too. My process drastically reduces vulnerability to drawdowns while attempting to stay invested for the longest possible period of time. I use a mix of trading techniques (including profit taking, stops, and trailing stops) and technical analysis.
BH: Well you are in good company on this pick, Holmes. Morgan Stanley lifted its long-term industry-wide revenue forecast and price targets on key casino stock names, such as Melco. Lots of stocks across this Macau casino group are higher this week. And why shouldn't they be as the economy remains strong and per capita income rises. Here is a look at the FastGraph.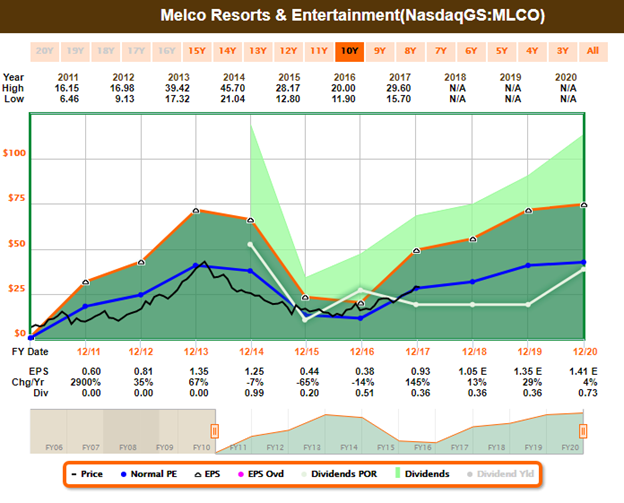 Holmes: You'd think it'd be challenging to find good "dip-buying" opportunities considering the market has been so strong lately, but it's not—there's still lots of good trades out there.
BH: Thanks, Holmes. I'll check back with you on this trade next month, considering your typical holding period is about six weeks. How about you, Road Runner—what have you got this week?
Road Runner: This week I like Ensco (ESV). Are you familiar with this stock, Blue Harbinger?
BH: I am familiar. Ensco is an offshore drilling company with a market cap just below $3 billion. And with the strength we've seen in oil prices in recent months, it's not surprising you'd like this type of company.
RR: As you know, I like to buy stocks that are at the bottom of a rising channel. And based on the following chart, you can see why I like Ensco.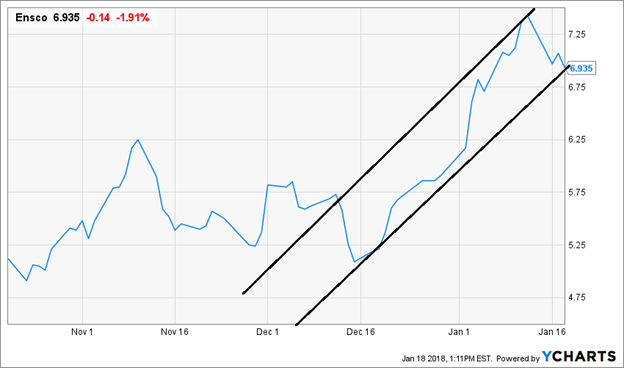 BH: Well, you're arguably in good company on this trade, Road Runner—apparently David Einhorn of Greenlight Capital also recently initiated a position in Ensco. This company was unprofitable through the first three quarters of 2017, but it announces fourth quarter earnings next month, and the market could be in for a pleasant surprise, unless you're one of the short sellers (currently about 15.8% of the shares are sold short, and that's down from over 30% in October). For your reference, here is a look at the Fast Graph.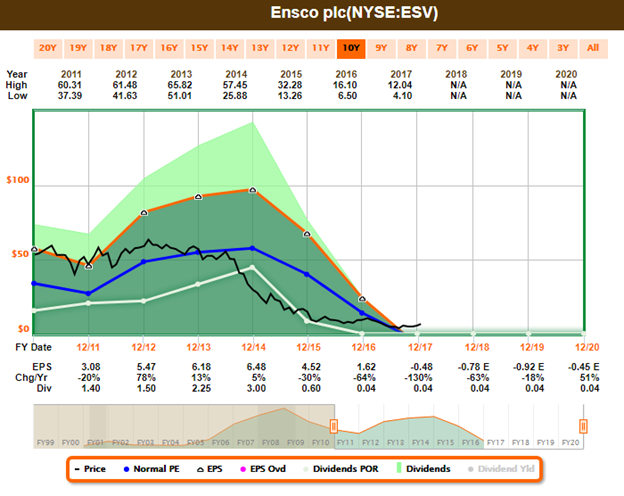 RR: I am aware of oil prices and the short interest. My typical holding period is about 4-weeks, so I'll likely be out of this stock before the company's next earnings announcement. And worth noting, options expiration is this Friday, and that could cause some exaggerated market moves too.
BH: Interesting information. I'll check back with you on this one in about 4-weeks. Anyway, how about you, Athena—what have you got this week?
Athena: This week I sold my shares of Sprint Realty (SRC). If you recall, I bought the shares back on June 26, 2017.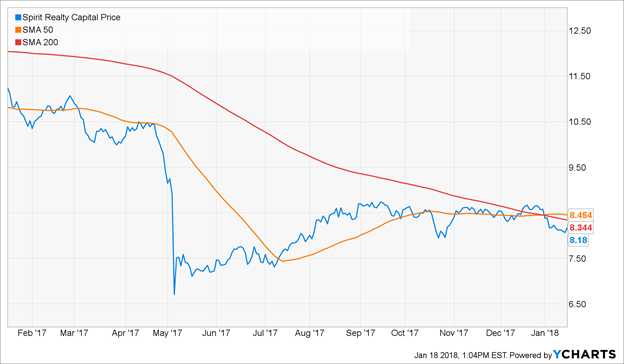 BH: Based on the above chart, it looks like you did alright on this trade. Remind us, Athena—what is your trading style?
Athena: I am a momentum trader. I typically hold my positions for about 17-weeks, although this one was a bit longer. For risk control, I use price targets and stop orders.
BH: Well it's interesting to see you trading a big dividend REIT (SRC yields 8.8%). And it looks like you bought shortly after it announced unusually high credit losses and lowered AFFO guidance. I'd likely have stayed away from a low quality REIT like SRC, but I'm glad to see your trading approach was successful.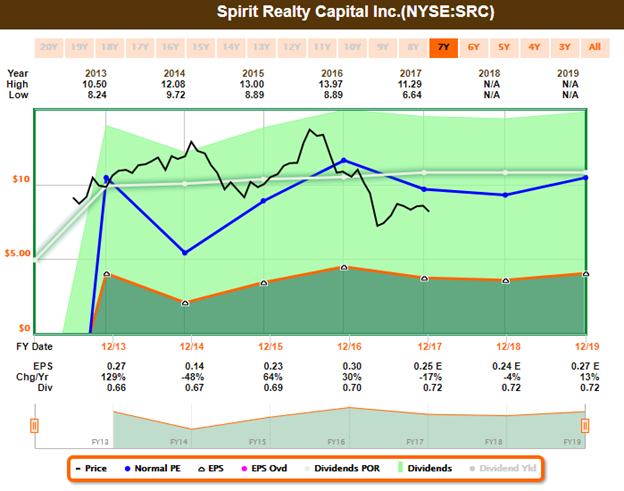 Felix: I have no stock picks this week, but I did run the Nasdaq 100 stocks through my model, and I've ranked the top 20 in the following list.

BH: That's an interesting list, Felix.  I see a lot of the usual aggressive growth suspects on your list, such as chipmakers Nvidia and Micron, and FANG stocks Netflix and Amazon. I'm assuming you're a momentum trader? And apparently you're not afraid the market is frothy?
Felix: Correct. I am a momentum trader. And I'm not afraid the market is frothy. I typically hold my positions for about 66 weeks—which is much longer than the other models. I exit when my price target is hit, and I use stops and macro considerations to control risks. And did you happen to notice my strong performance in the performance table earlier in this report?
BH: Nice job, Felix.  Not surprised your style is shining in this market. How about you, Oscar—what have you got this week?
Oscar: This week I'm sharing my top 20 rankings from my Diverse ETF universe.

BH: I love this list, Oscar. You have all kinds of momentum ETFs on your list ranging from the inverse volatility index (XIV) which is a trade that's been absolutely winning for about 2-years straight now, to the online retail ETF (IBUY), to the semiconductor ETF (SOXX). This is good stuff, Oscar. Thanks for sharing.
Oscar: You're welcome. And in case you've forgotten, I am a momentum trader, and my typical holding period is about six weeks. I use stops to protect against downside, and I exit by rotating into another sector.
Conclusion:
It's easy to say you're waiting for a pullback before you enter the market. Unfortunately, that's a strategy that hasn't worked all too well lately considering the market's strong start to 2018 is essentially a continuation of its strong performance in 2017. As you can see in our earlier performance table, our "dip-buying" strategy (Holmes) has put up positive numbers in recent months, but not nearly as positive as our momentum traders. In aggregate, we prefer a blended approach including both momentum and dip-buying strategies. And we're not sitting on the sidelines with our capital because we believe we can continue to generate strong trading profits whether or not that market pullback arrives anytime soon.
Background On The Stock Exchange:
Each week, Felix and Oscar host a poker game for some of their friends. Since they are all traders, they love to discuss their best current ideas before the game starts. They like to call this their "Stock Exchange." (Check out Background on the Stock Exchange for more background). Their methods are excellent, as you know if you have been following the series. Since the time frames and risk profiles differ, so do the stock ideas. You get to be a fly on the wall from my report. I am usually the only human present and the only one using any fundamental analysis.
The result? Several expert ideas each week from traders, and a brief comment on the fundamentals from the human investor. The models are named to make it easy to remember their trading personalities.
Stock Exchange Character Guide:
| | | | | | |
| --- | --- | --- | --- | --- | --- |
| Character | Universe | Style | Average Holding Period | Exit Method | Risk Control |
| Felix | NewArc Stocks | Momentum | 66 weeks | Price target | Macro and stops |
| Oscar | "Empirical" Sectors | Momentum | Six weeks | Rotation | Stops |
| Athena | NewArc Stocks | Momentum | 17 weeks | Price target | Stops |
| Holmes | NewArc Stocks | Dip-buying Mean reversion | Six weeks | Price target | Macro and stops |
| RoadRunner | NewArc Stocks | Stocks at bottom of rising range | Four weeks | Time | Time |
| Jeff | Everything | Value | Long term | Risk signals | Recession risk, financial stress, Macro |
Getting Updates:
Readers are welcome to suggest individual stocks and/or ETFs to be added to our model lists. We keep a running list of all securities our readers recommend, and we share the results within this weekly "Stock Exchange" series when feasible. Send your ideas to "etf at newarc dot com." Also, we will share additional information about the models, including test data, with those interested in investing. Suggestions and comments about this weekly "Stock Exchange" report are welcome.