Stock Exchange: Are You Staying Sane In This Crazy Market?
The Stock Exchange is all about trading. Each week we do the following:
discuss an important issue for traders;
highlight several technical trading methods, including current ideas;
feature advice from top traders and writers; and
provide a few (minority) reactions from fundamental analysts.
We also have some fun. We welcome comments, links, and ideas to help us improve this resource for traders. If you have some ideas, please join in!
Review: Is Technical Damage Driving The Market?
Our previous Stock Exchange asked the question: Is technical damage driving this market? We noted that the S&P 500 had broken critical technical support levels, and it sank further below its closely-watched 50-day and 200-day moving averages, and it hit a new low for 2018. However, we encouraged traders to remember that markets are driven by both technicals (often in the shorter-term) and economic and fundamental factors in the longer-term. Further, keeping technicals, fundamentals and economics in mind, traders should be sure to follow a strategy that is consistent with their personal needs and goals.
This Week: Are You Staying Sane In This Crazy Market?
The Dow Jones just posted its biggest one-day point gain in history, on the day after Christmas, a day that is supposed to be relatively quiet.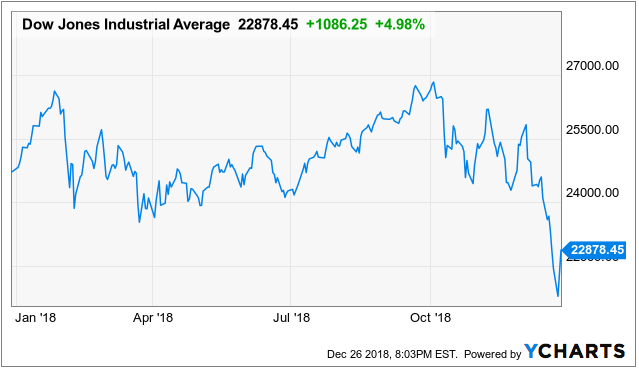 Yet despite Wednesday's face-ripper, the market is still down significantly for the quarter (and the year), as shown in the chart above.
While we discussed last week that "technical damage" could be driving the market lower, there are obviously other things going on, such as tariffs and the fed. And according to this recent article, UBS economist Rob Martin believes:
"right now, at least – tariffs and the Fed are the two biggest obstacles to the market."
And per that same article, Data Trek Research co-founder Nick Colas thinks:
"although a certain level of uncertainty won't kill a bull market, there are too many loose ends to tie up at once right now, and that could delay a rally in the beginning of the new year."
But perhaps a bigger question regarding the current crazy market is: are you staying sane? When markets sell-off in volatile fashion, traders need to keep their emotions in check. According to Brett Steenbarger, investors may want to heed The Psychology of Trading a Crazy Market. Specifically, Steenbarger writes:
"An important priority in trading crazy markets is doubling down on our own sanity. That means mentally–and emotionally–rehearsing being wrong on trades so that we are prepared to take the right actions if the stuff hits the fan."
Also worth a listen, Steenbarger recently participated in a podcast with J.C. Parets of All Star Trading, where they discuss:
"how the volatility of markets can induce our own emotional and behavioral volatility."
The podcast is worth a listen.
Exiting Trading Positions:
Regarding our own trading models, we have a variety of risk management signals and procedures. For example, when near-term market conditions are not favorable, we will exit all of our open trading positions. And in fact, based on the signal from our models, we have exited from all of our trading positions in the Athena, Felix and Road Runner models.
Just to reiterate, this step is a risk control measure rather than a prediction of the market going down. These models will be getting back to the market when conditions are better. Also worth noting, our Holmes trading model is not affected since it has an independent set of requirements and stops (Holmes can take care of itself).
Model Performance:
We are sharing the performance of our proprietary trading models, as our readers have requested, as shown in the following table:

We find that blending a trend-following / momentum model (Athena) with a mean reversion / dip-buying model (Holmes) provides two strategies, effective in their own right, that are not correlated with each other or with the overall market. By combining the two, we can get more diversity, lower risk, and a smoother string of returns.
For more information about our trading models (and their specific trading processes), click through at the bottom of this post for more information. Also, readers are invited to write to main at newarc dot com for our free, brief description of how we created the Stock Exchange models.
Expert Picks From The Models:
Note: This week's Stock Exchange is edited by Blue Harbinger, a source for independent investment ideas.
Holmes: I purchased Coca-Cola European Partners (CCEP) on Wednesday, on a price dip. How do you feel about that?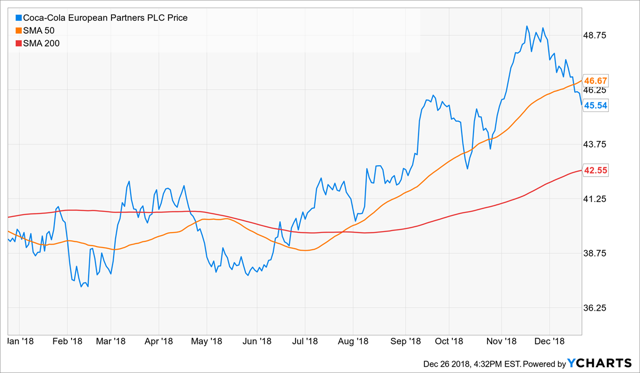 Blue Harbinger: What? American Coke is not good enough for you Holmes? Just kidding, I know CCEP distributes the same Coca-Cola, Diet Coke, Coke Zero, and many others, in Europe. But why did you buy?
Holmes: I am a dip-buyer. My typical holding period is six weeks. For risk management, I use price targets, stops and I monitor macro conditions. And unlike the other traders, I did not exist my positions. I am a contrarian through and through.
BH: Interesting pick, Coca-Cola is one of those steady-eddy blue chip dividend payers that all the aggressive growth guys hate. But these low beta shares have performed very well this year, especially this quarter as just about everything else has sold off relatively hard. Here is a look at the Fast Graph.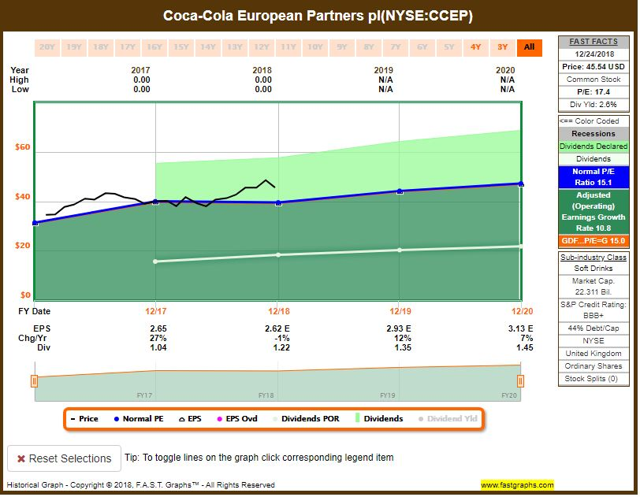 Holmes: Thanks for that information, but to remind you, I typically hold for about 6-weeks only. Your long-term fundamental metrics are less important to met.
BH: Suit yourself, Holmes. And how about you Felix, and trades to share this week?
Felix: I just exited all my open positions as a precautionary risk management move. Market conditions have gotten crazy. I will wait for things to settle down again before my next trade. However, I did run the Nasdaq 100 through my model, and my top 20 rankings are listed below.

BH: Thanks for that info, and I appreciate rankings, but remind us–what is your trading style?
Felix: I am a momentum trader. I typically hold for around 66-weeks. I use stops and pay attention to macro conditions for risk management reasons. And as you know, I just exited all my trades because near-term conditions have gotten a bit unhealthy. Again, not a bet on market direction–just risk management.
BH: Okay. Thank you for that. And how about you Oscar? As our resident ETF trader, do you have anything to share?
Oscar: Yes. This week I ran our Comprehensive and Diverse ETF universe through my model, and the top 20 are ranked in the following list.

BH: Interesting. And remind us, what is your trading strategy?
Oscar: I am into momentum. I typically hold for 6 weeks, and then I usually rotate into a new sector or style ETF.
BH: Thanks Oscar. I'd ask Athena and Road Runner if they have any trades to share, but I already know what they are. Like Felix, they just exited all of their open trades because near-term trading conditions are not healthy for their technical models. Which is fine, because I know they'll be back when conditions settle down–it's all part of their process.
Conclusion:
When market conditions get wild, it becomes more important than ever to stay psychologically level-headed; don't let your emotions drive you to make bad trades. Our trading process leads us to close open trading positions when near-term conditions become unhealthy. And that is exactly what several of our trading models just did. Felix, Road Runner and Athena just exited all of their open positions; not because they're betting on market direction, but rather for risk management purposes. They will re-enter when market conditions settle down and become more conducive for their specific trading styles.
Stock Exchange Character Guide:
Style
Average Holding Period
Exit Method
Risk Control
Felix
NewArc Stocks
Momentum
66 weeks
Price target
Macro and stops
Oscar
"Empirical" Sectors
Momentum
Six weeks
Rotation
Stops
Athena
NewArc Stocks
Momentum
17 weeks
Price target
Stops
Holmes
NewArc Stocks
Dip-buying Mean reversion
Six weeks
Price target
Macro and stops
RoadRunner
NewArc Stocks
Stocks at bottom of rising range
Four weeks
Time
Time
Jeff
Everything
Value
Long term
Risk signals
Recession risk, financial stress, Macro
Getting Updates:
Readers are welcome to suggest individual stocks and/or ETFs to be added to our model lists. We keep a running list of all securities our readers recommend, and we share the results within this weekly "Stock Exchange" series when feasible. Send your ideas to "etf at newarc dot com." Also, we will share additional information about the models, including test data, with those interested in investing. Suggestions and comments about this weekly "Stock Exchange" report are welcome. Your can also access background information on the "Stock Exchange" here.
Trade alongside Jeff Miller: Learn more.